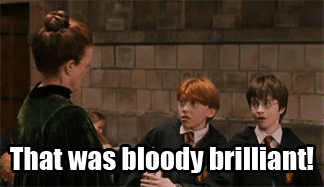 Can we please all just give Kelly O and MAC a round of applause for the name of this palette? It's great! Bloody Brilliant is one of those things I say all the time, and I feel like it's typically English, if Ron says it in Harry Potter, it is.
The box packaging is similar to that of the rest of her line, a satin lilac box with MAC on in patent black and Kelly's signature in patent red. The box is thinner than a bronzer box, and a centimetre or two longer. The box doesn't have the name of the palette written on it. This quad is £33, which for four shadows and the quad is pretty decent. If you count each shadow separately £10 each and the quad palette is £6.50, so that'd be £46.50 if you were to buy everything individually, and here you get 3 limited shades too.
The packaging is pretty, I do prefer the new quad packaging to the old one. This and the Sharon quad are the first ones I've ever bought from MAC. It has a magnetic closure, and is a lilac satin plastic with a clear window with Kelly' signature in red across the front, just above the MAC logo. It's a really pretty palette, and the packaging is nice. There's just something about this plastic that cheapens it, I don't have a regular mac quad to compare them but compared to the Sharon quad and the 15 pro palette, the plastic has a less 'substantial' feel to it.
Colours from top L-R, Spoonful of Sugar (Veluxe Pearl), Tickety Boo (Satin), Fizzy Rose (Satin), Shadowy Lady (Matte - main line).
Spoonful of Sugar is a beautiful shiny silver with grey/purple undertones, I really like this for an inner corner highlight. It's easier to use with fingers or a larger brush, than with a small brush, which is what I wanted to use initially. I've watched a couple of reviews of this palette by American YouTubers, they didn't seem to know what Spoonful of Sugar was, it's like "Just a spoonful of sugar helps the medicine go down" yah know!
Tickety Boo has been plugged as a revised version of Quarry, it's not, at all. Quarry comes off more brown and is much less pigmented than Tickety Boo. TB is a beautiful transition colour for these shadows, and is a lovely purple tinted neutral for those with green eyes!
Fizzy Rose, OHMYGOODNESS! It's so pretty! Purple has long been one of my favourite colours, it's a beautiful, bright lilac that looks amazing as a pop of colour on the lid. You do have to pack this one on though.
Shadowy Lady is the only main line shadow in this palette, it's a blackened blackberry matte. It's nice and not too pigmented, unlike a lot of people I look for a buildable dark colour/black than a seriously pigmented one, so this is perfect for me.
Below is a look I did quickly with the shadows.
The colours have not been edited, I will admit, I smudged out a big spot on my forehead but what can you do? It's such a beautiful palette, I'd definitely recommend it if you're a fan of cool tones, purples or silvers. This is for you!